Company Overview
Greeting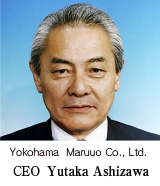 With the slogan, "Blessed by the Sea for 70 Years, and on to the Next Stage"heart, the Yokohama Maruuo Group has launched the new medium-term management plan, "MM Plan 3rd Stage".
Established in October 1947, Yokohama Maruuo Co., Ltd. is an authorized wholesale trader by the Ministry of Agriculture, Forestry and Fisheries.We have strived in fulfilling our public mission as a stable fishery distributor based in Yokohama City.
The Group is celebrating its 70th anniversary in 2017.
We would like to express our deepest gratitude to our stockholders, our loyal customers and all clients who have supported us to become what we are today.
I am humbled to be appointed as the President at this time which marks a milestone in our company history.
As a corporate working in the 21st century, we aim to further develop our business in enhancing the joy and pleasure of the table providing heartfelt satisfaction. We believe pursuing this vision leads our company to realize sustainable growth, to be able to celebrate our 100th anniversary, and many more to follow.
This also leads us to pursue the three company concept.

Company Overview
Office
Yokohama Maruuo Headquarters
1 Yamanouchi-cho, Kanagawa-ku, Yokohama-shi 221-0054
TEL:+81-45-459-2921 FAX:+81-45-459-2898

Kawasaki Hokubu Branch
1-1-1, Mizusawa, Miyamae-ku, Kawasaki-shi 216-0012
TEL:+81-44-975-2420

Establishment
October 30th, 1947
Capital
JPY1,541,860,000
Representative
Yutaka Ashizawa
Business Outline
The Yokohama Maruuo Group consists of the main company and three affiliated companies. With fishery wholesale as our core business, we extend our market to mass retailers and foodservice industry, as well as a rental business of distribution centers and forwarding business.

・Fishery Wholesale Business Specializing in fishery wholesale business in Yokohama City Central Wholesale Market and Kawasaki City Central and Local Wholesale Market. Yokohama Maruuo Co., Ltd.

Marine Product Sales Business Distribution of marine products from the Central Wholesale Market to mass retailers and the foodservice industry. Hansui Co., Ltd., Tateyama Maruuo Co., Ltd.

・Real Estate Rental business of distribution centers. Yokohama Maruuo Co., Ltd.

・Other Fishery forwarding etc. Yokohama Maruuo Ichiba Unsou Co., Ltd.

main customer
Relationship wholesale traders, producer of a buying and selling participant and every region of the country,
Maruha Nichiro Corp.,
Kyokuyo Co., Ltd.,
Nichirei Corp.
and other ones
Our Banks
The Bank of Yokohama,Ltd. and Sumitomo Mitsui Banking Corporation
Company History
1947
Established Yokohama Uoichiba Niuke Co., Ltd.
1948
Changed company name to "Yokohama Maruuo Co., Ltd."
1963
Became listed in Tokyo over-the-counter registered stock
1973
Opened Nambu Branch due to opening of Yokohama Central Wholesale Market
1989
Capital increased due to conversion of stock to Swiss franc-denominated convertible bond
1997
50th Anniversary of foundation
2007
60th Anniversary of foundation
2015
Closed Nambu Branch due to closing of Yokohama Central Wholesale Market
Merged with Kawasaki Maruuo Co., Ltd.
2017
70th Anniversary of foundation
2018
Established Kawasaki Maruuo Co., Ltd.
About mentioning.